About
WATS is a multidisciplinary group of faculty, staff, and students at Western University who are passionate about researching and promoting safe cycling and walking as a means of transportation. Much of our current infrastructure both on campus and off is focussed on cars, and while we understand that cycling and walking is not for everybody (and not for every day), we believe that better support for active transportation will yield important and significant benefits. Cycling and walking is fun, and research clearly shows that it is good for body, brain, society, and environment.
Disclaimer: Opinions expressed on this website, on our twitter account, and in email communications are purely our own, and do not reflect the official view of Western University.
Specific Goals and Projects
University Bridge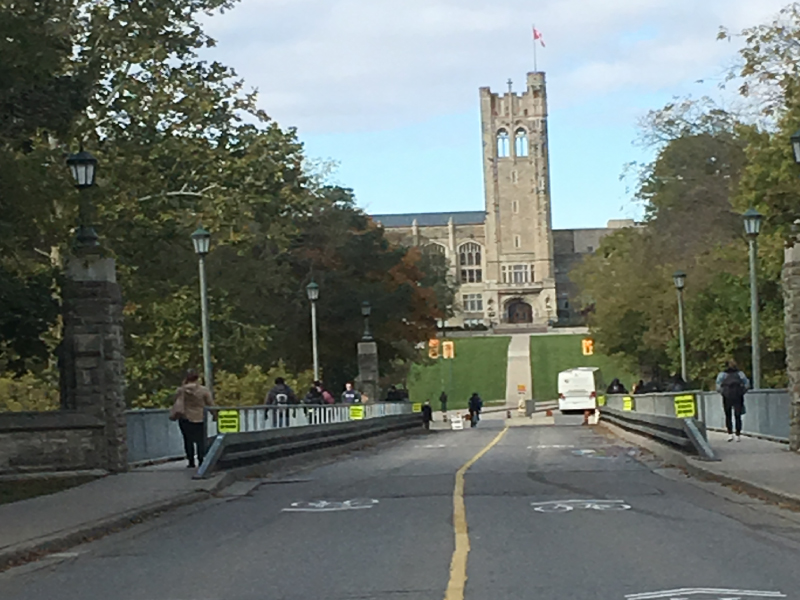 Last year's closure of the University Bridge encouraged many people to walk or cycle to campus, made commuting safer and more pleasant, and for the duration of the closure, changed the whole experience of entering campus from the east. Many people noticed this positive change; and we aim to look into the impact of a potential bridge closure through further research. We believe that it makes sense both from an economic and transportation planning standpoint to keep the bridge permanently closed to cars - provided the closure is embedded in a larger plan that prevents negative impact on bus traffic and congestions in other areas.
Sheltered and Secure Bike Parking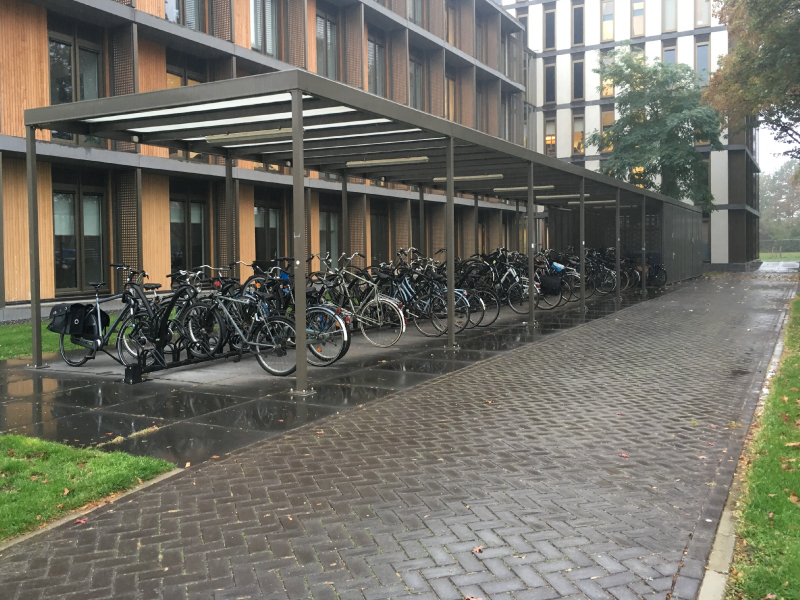 We are lobbying for covered and secure bike parking (here seen at Maastricht University) in immediate proximity to every University building. Current bike racks leave the bikes exposed to theft, as well as rain and snow. This forces people to either store their bikes within university buildings (against regulations, and not a practical option for students), or not to bike at all. We are currently working with the University to realize enclosed and sheltered bike parking structures on campus that are only accessible with Western ID cards, which should dramatically decrease the risk of bike thefts.
Pay-per-Use Parking Permits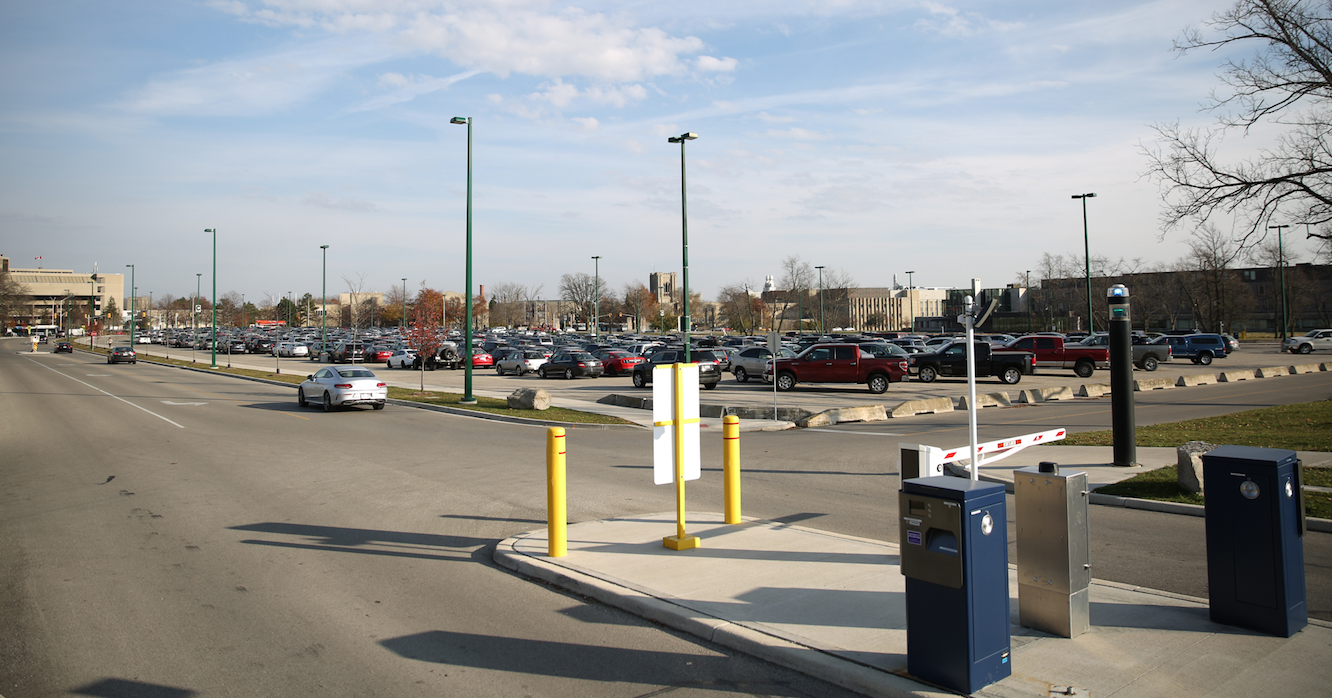 Current parking permits are designed for people who drive to campus every day - the discount of a parking permit over daily rates exceeds 80%. Thus, an individual, who for practical reasons has to drive one day a week, but chooses other forms of transportation for the other four, currently pays as much as somebody who commutes by car every day. This is an active disincentive for those wanting to explore alternative forms of transportation. We therefore advocate the introduction of a pay-per-use permit, which should be the cheaper option when parking fewer than half the working days on campus. Introducing a pay-per-use system will encourage people to choose alternative transportation options more often, and will ultimately free up precious campus area.
Improved Bicycle Network and Winter Maintenance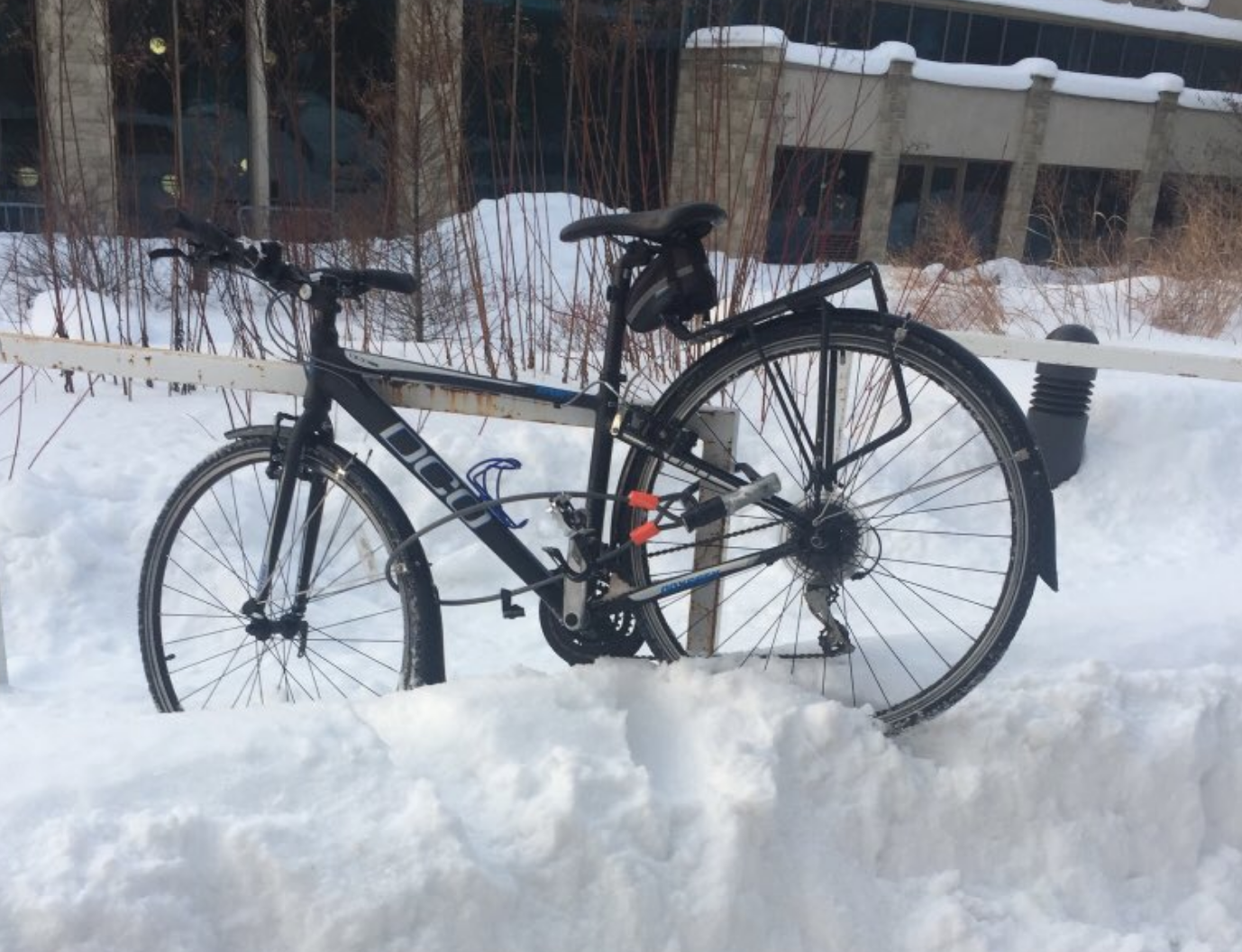 We welcome the new Open Space Strategy of our University. The focus on pedestrians and introduction of bike lanes on the remaining campus roads are steps in the right direction. Because the devil is in the details, however, we would like to serve as a consulting partner for Facilities Management to help get things right, and to advocate for clear standards and guidelines for access throughout the year. If you have concerns regarding Pedestrian or Bicycle infrastructure, or experience lack of winter maintenance for active transportation (see photo!), please cc us on your email to Facilities Management, so we can help address shortcomings.
Beyond Campus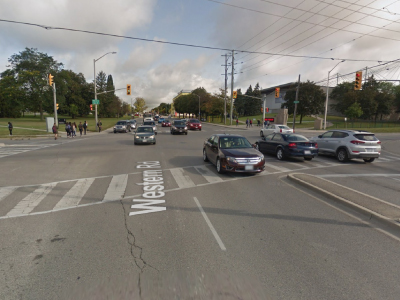 We are working with other cycling and pedestrian advocacy groups in London (i.e., the London Cycle Link) to improve infrastructure throughout the city, to make commuting to campus more safe and pleasant. One focal point of attention is the Western and Sarnia intersection, which is in desperate need of improvement. More broadly, we believe Western University should be a catalyst helping to make LondON a more bicycle and pedestrian friendly city.
Join WATS
If you are interested and want to support active transportation at Western, please become a member of WATS! We need you! Simply email us at owner-watsall@uwo.ca with your full name and email.
Your email will be added to our email list watsall@uwo.ca, and you will receive our bi-weekly newsletter .
As a member, you can also send WATS-related messages to all other 160+ members at watsup@uwo.ca. If you want to receive the newsletter without any other messages, simply email owner-watsup@uwo.ca with "unsubscribe" in the subject line to be removed from watsup@uwo.ca.
Come to one of our regular meetings, every other Thursday 4pm-5pm at the Grad Club, and meet your fellow WATSers and learn how you can become active! Exact dates for the meetings are in the Newsletter
General questions, concerns, comments? We'd love to hear from you! Please email us at wats@uwo.ca.
Follow us on Twitter:
Core members
Jörn Diedrichsen
Brain and Mind Institute
Coordinating and cleaning up the mess afterwards
Dan Lizotte
Epidemiology & Computer Science
Good decisions <- Evidence + Values
Marco A.M. Prado
Molecular Medicine
Lord of Tweets
Susanne Schmid
Schulich School of Medicine & Dentistry
Providing Swabian sensibility
Eric Arts
Microbiology and Immunology
Making things go viral
Jason Gilliland
Geography
Doing the actual science
Jacqueline K. Kueper
Epidemiology
Graduate student liaison
Joy Cameron
King's College
Western affiliates
Chris de Groot
Mechanical and Materials Engineering
Bike corridor from Brescia to Alumni Hall
Jason Gerhard
Civil and Environmental Engineering
Bike Parking
Brian Shilton
Biochemistry

Trevor Wade
Robarts Research Institute